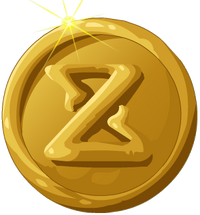 Z-tokens are very rare coins that can be found by battling challenging monsters in the game. You also have a chance of receiving Z-tokens from visiting Ballyhoo and viewing ads. You can also purchase a large amount of Z-Tokens, using real money at this site:http://www.battleon.com/aq-tokens.asp You can trade the Z-Tokens in for cool special Weapons or other items at the Z-Token Equipment Shop inside AdventureQuest. You can exchange Z-Tokens for Gold at any shop within the game. Find Valencia standing at the Inn. She will help you get items with your Z-Tokens!
Ad blocker interference detected!
Wikia is a free-to-use site that makes money from advertising. We have a modified experience for viewers using ad blockers

Wikia is not accessible if you've made further modifications. Remove the custom ad blocker rule(s) and the page will load as expected.