Ad blocker interference detected!
Wikia is a free-to-use site that makes money from advertising. We have a modified experience for viewers using ad blockers

Wikia is not accessible if you've made further modifications. Remove the custom ad blocker rule(s) and the page will load as expected.
Daily Gold and XP Limits
Edit
On October 14, 2005 there was a limit placed on how much gold and experience points you can earn in a single day. Captain Rhubarb stated that this was to "prevent cheaters from gaining an insane amount of gold and XP, ruining
the overall community". Another reason is to prevent players from abusing unbalanced quests that give too much gold or XP, such as defeating Damfeldork the Were-Dragon over and over (whose XP and gold yield was reduced).
The gold and XP caps for X-Guardians are 10% more than Adventurers and Guardians. These limits reset at 12:00 AM EST, as this is where the Artix headquarters are located.
Gold Limits
Edit
Once you've hit your max amount of gold for the day a message will apear at the end of the battle in the spoils scroll telling you that you won't be recieving any more gold from battles for the rest of the day. AQ Daily Gold Cap: (1.055^Lvl+8+1.055^(Lvl^1.085))*200 (*1.1 for X-Guardians)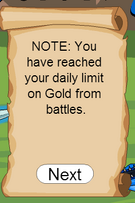 XP Limits
Edit
Once you've hit your max amount of XP for the day a message will apear at the end of the battle in the spoils scroll telling you that you won't be recieving any more XP from battles for the rest of the day. AQ Daily EXP Cap: (3*1.055^Lvl+24+3*1.055^(Lvl^1.085))*200 (*1.1 for X-Guardians)