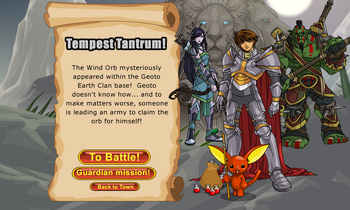 Quests are events that allow the player to battle monsters and gain rewards, with some exceptions. Most quests contain some sort of internal story.
Quests are one of most important aspects of AdventureQuest's game-play. There are hundreds of quests that a person may choose from to play, and every week one is added to the game.
Most recent quests have a reward for completing it; these include weapons, armors, spells, shields, pets, and miscs. Some older quests have either no reward aside from monster battles, or have a temporary item instead of a permanent item the player can use.
#/Symbol
A
B
C
D
E
F
G
H
I
J
K
L
M
N
O
P
Q
R
S
T
U
V
W
X
Y
Z
Ad blocker interference detected!
Wikia is a free-to-use site that makes money from advertising. We have a modified experience for viewers using ad blockers

Wikia is not accessible if you've made further modifications. Remove the custom ad blocker rule(s) and the page will load as expected.