Lycan Slasher
Edit
Price: 3,000 Gold
Sellback: 2,250 Gold
Level: 40
Location: Lycan Shop
Element: Ice
Attack Type: Melee
Damage: 5-17
BTH: 8%
Hits: 1
Element: Void
Attack Type: Magic
Damage: 50% Base MP
BTH: 300%
Rate: 18%
Description
Edit
This moonlight empowered blade can actually drain some of your enemies' mana.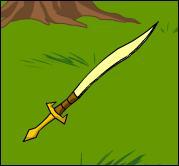 Ad blocker interference detected!
Wikia is a free-to-use site that makes money from advertising. We have a modified experience for viewers using ad blockers

Wikia is not accessible if you've made further modifications. Remove the custom ad blocker rule(s) and the page will load as expected.