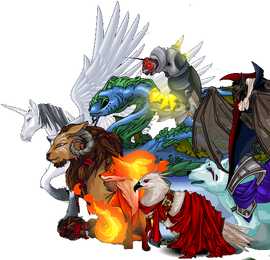 Clans are groups of players who join together under something they have in common. This category deals with official clans, which are implemented into the game engine by Artix Entertainment. Clans are designed to go to war with each other, each clan having specific attack or defense strengths or weaknesses. On the individual player, clans bestow both items and certain elemental bonuses. Once a player has joined a clan, a player cannot leave for the duration of the event.
#/Symbol
A
B
C
D
E
F
G
H
I
J
K
L
M
N
O
P
Q
R
S
T
U
V
W
X
Y
Z
Ad blocker interference detected!
Wikia is a free-to-use site that makes money from advertising. We have a modified experience for viewers using ad blockers

Wikia is not accessible if you've made further modifications. Remove the custom ad blocker rule(s) and the page will load as expected.